Dr Rath Research - Home - Dr. Rath Research Institute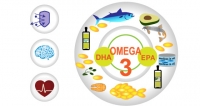 As COVID-19 continues people turn to using various dietary supplements to support their immune system. Omega-3 is one such candidate that has multifaceted health benefits. Well known for its benefits in memory boosting and learning, omega-3 fatty acids are important in optimum function of the nervous, cardiovascular, immune, and respiratory systems.

Omega-3 and omega-6 fatty acids are polyunsaturated fatty acids and are considered "essential fatty acids" because humans cannot produce them in the body. They are needed for optimum absorption of fat-soluble vitamins A, D, E, and K and help to maintain the structure and integrity of cellular membranes.